We are open for business and can offer you and your clients our full underwriting capacity up to age 79.  In addition, we will allow your clients to be examined by their own doctor and we will provide the necessary exam form and lab kit to their offices.
However, our updated underwriting guidelines may also help you with some of your other challenging cases during these unique times:
John Hancock's Human API portal now available to all distribution partners
In order to expedite the underwriting process for cases where medical records cannot be accessed through traditional channels, your clients can now provide John Hancock Insurance direct access to their health records through our Human API patient portal.
Docusign – What if the firm does not have DocuSign and is asking for help?

We will provide temporary access to John Hancock's DocuSign Account, allowing those firms to gather eSignatures with clients and agents
We will audit all users, making sure that they only use this account for doing business with JH.  We pay a fee on their behalf for each transaction.
This offer will terminate once we pass this COVID-19 phase, and normal business processing can resume
We need the firm name, a firm contact and email address to set them up
Our normal business 3rd Party eSignature Agreement will not be required
Part I & Part II for ExpressTrack

In addition, we will temporarily allow them to use our DocuSign account to get signatures on the Part I and Part II for ExpressTrack

Updates on older-age underwriting (80+)
John Hancock will not be making final underwriting offers on cases where the applicant is 80+. We are happy to continue to receive and review submissions for these clients with the goal of moving on them quickly when circumstances change. For any pending submissions in this age group with a formal application and a final underwriting offer, you can expect a call from your John Hancock underwriter shortly to discuss next steps.
Underwriting parameters– In cases where exams and labs are not possible, we may consider medical records as a substitute.

For the following ages and amounts we will routinely consider recent medical records as an alternative to a current paramed or exam:

Face amounts up to $5 million for ages 18-65
Face amounts up to $3 million for ages 66-70

We may be able to apply this practice to face amounts up to $10 million for ages 18-60, and up to $5 million for ages 61-70, subject to individual case consideration

For these cases, medical records should include a comprehensive visit with a physical and labs within the last 12 months, accompanied by a completed Part II medical supplement form. This includes cases in New York.  All other submissions will be subject to routine age and amount requirements.
If a case is already pending with us, the firm/Producer must notify us if they would like the case to be reviewed within these parameters.

Expansion of ExpressTrack

NEW! As we mentioned above, the traditional paper application has been added as an ExpressTrack submission option. Please remember, all submissions must include the application ("Part I"), the medical supplement ("Part II") and any other applicable authorizations, and all elements must be submitted simultaneously. No telephone interview will be conducted. Please note: the medical supplement ("Part II") is not automatically included in the application kit and it should be completed by the agent.
JH Life eTicket, iPipeLine's Drop Ticket and ApplicInt Multi-Carrier Drop Ticket for term will include a telephone interview with the client to complete medical questions
JH Paper Ticket for all single-life products including LTC rider will include a telephone interview with the client to complete medical questions
ExpressTrack eligibility criteria remains the same:
Ages 18-60
Face amounts up to and including $3 million
All term and permanent single-life products, including the Long-Term Care rider
Standard or better risk class
[fivo_docs title="Retention & Autobind Limits" ids="3261″]
NFG Brokerage
We are a National Brokerage General Agency helping our Distribution Partners  achieve great results.
Request a free quote
Our Team is ready to help.  Click the button below and be sure to include the details of your quote...we will be back with you As Soon As Possible.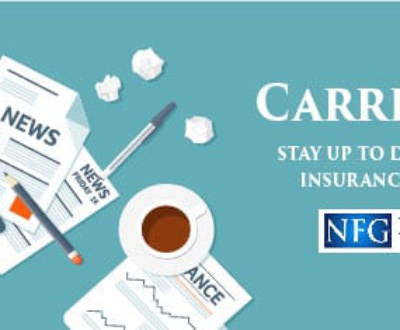 Fully underwritten QoL Flex Term policies could be eligible to convert to…