Prudential has been actively monitoring the rapidly changing environment due to the impact of the COVID‐19 pandemic. We are focused on helping customers with their life insurance needs during this challenging time. Given social distancing, office closures, and restricted access to medical personnel, today, we are announcing some changes to our underwriting procedures to ensure your safety and the safety of our communities, and so clients continue to have access to the coverage they need. 
 Among the changes being implemented, we are:
Extending the threshold of face amounts for new life insurance policy applications submitted via PruFast Track from $1 million to $3 million. PruFast Track is our predictive underwriting model that uses data and artificial intelligence to underwrite insurance policies.
Discontinuing the need for medical exams/labs, where possible, for new life insurance policies with face amounts of less than or equal to $3M for individuals 60 years of age and under.

While we understand that historically, some of our distribution partners have preferred to order medical exams, given the challenging environment of COVID‐19, Prudential has made the decision to take on the responsibility for ordering medical requirements in all cases and only if needed. Using sources such as electronic health records, we will determine whether an exam is required. We are also in the process of expanding the use of electronic medical records (Human API) along with other methods to drive fast decisions with minimal requirements.
Please note that cases will NOT be eligible for PruFast Track if medical requirements are submitted with the application or indicated to have been ordered.

Implementing a full end‐to‐end process to electronically deliver policies from applicationsubmission to policy placement. While traditional, paper policies will continue to be availableupon request, it is our goal to shift our processes to a more seamless, technology‐enabledexperience.
Making adjustments to a few underwriting guidelines to ensure a prudent financial approach, in an effort to continue to deliver for our customers. These updates include:

 

Temporarily restricting new applications at age 80 and over—we will no longer accept any application at age 80 and over until further notice, effective April 6, 2020.
Postponing any applications at ages 65 and over with a rating class of Table D or higher.

 

Postponing any rated case in which the client presents a chronic respiratory condition.

 

Postponing any proposed insured who has tested positive for COVID‐19 for 30 days with full recovery.

 

Allowing extensions of 30 days to Further Information Unobtainable (FIU) dates and placement periods on Cash on Delivery (COD) business.

 
CLICK HERE to read the formal announcement
NFG Brokerage
We are a National Brokerage General Agency helping our Distribution Partners  achieve great results.
Request a free quote
Our Team is ready to help.  Click the button below and be sure to include the details of your quote...we will be back with you As Soon As Possible.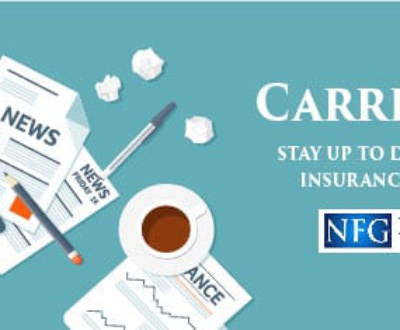 Indexed Choice UL Reprice & Now Available in NY & Classic Choice…